AVANT FLUTE CHOIR
The Avant Flute Choir of the San Jose Youth Symphony, consists of intermediate-level flutists and sets its goals as teaching young musicians the needed skills for playing in a group. Rehearsals are focused on improving techniques through various scale warm-ups, work on tuning and intonation issues, introducing the concepts of ensemble playing, as well as working on a wide range of repertoire. The friendly and inviting atmosphere of the choir encourages students to learn in collaborative and inspiring ways. Section leaders are chosen based on their participation, attendance and overall involvement as team work is very important.
Artistic Requirements
Musicians must meet these requirements in order to be accepted into the Avant Flute Choir.
Concerts
The Avant Flute Choir performs three concerts per year. They also have the opportunity to perform at various community venues throughout the year. Concert admission is $5 for adults; $2.50 for students and seniors; and free for kids under 5.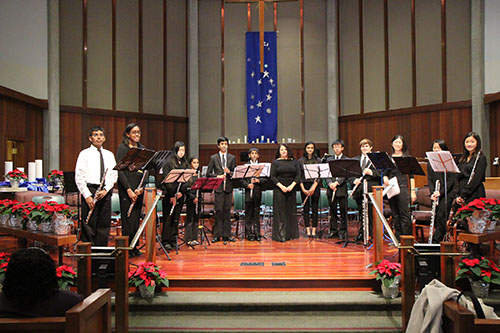 Here is a video of the latest performance of the ensemble.
Rehearsals
Rehearsals are held every Monday from 6:00 – 7:30 pm at Orange Music Studio. (details)