MUSIC MATTERS
Music Matters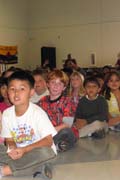 Thanks to funding support from the David and Lucile Packard Foundation back in 2003, SJYS successfully implemented its educational outreach program, Music Matters, when the state budget crisis resulted in serious cuts to school music programs. Music Matters provides local elementary schools in San Jose with affordable music education and after-school instrumental music lessons, taught by professional music teachers, in small, after-school classes (10-12 students), and conveniently located on the school campuses. Its instructors travel to designated schools and provide on-site instruction, fostering awareness and introduction to music study for students who would otherwise not have this opportunity.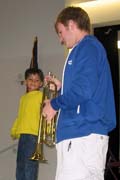 Music Matters is a two-year program, which includes introductory music theory and performance of specific instruments. Classes may be offered in flute, oboe, clarinet, trumpet, percussion, viola, cello, violin, guitar or keyboard, depending on sufficient interest. The program also offers an introductory Music Appreciation class, also depending on sufficient interest, which provides a historical and theoretical overview of music, including notation, rhythm, melody and harmony, as well as listening to music from different periods in history and how it relates to the culture in which it was created; an introduction to various composers, their lives and work.
Classes are held once per week, are 45 minutes long, and run throughout the school year in three sessions. Students are charged only $20-22 per class, and tuition fees are paid in installments at the beginning of each session.
An extensive review of research conclusively affirms the positive effects of music education. Research shows that an education in and through music prepares students to learn, facilitates student academic achievement, and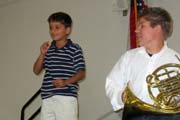 develops the creative capacities for lifelong success.
(Music Matters: How Music Education Helps Students Learn, Achieve and Succeed).
Please see our 3-minute video, which shows some of our fun activities at SJYS.