Eric Bolvin
Jazz Ensemble Conductor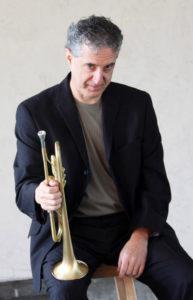 An award-winning composer, arranger, musician and well-respected teacher, Eric has lived and worked in the Bay Area for the past three decades. As an established educator, he has taught privately at his studio since 1980;  and has been Music Director in the Union, Cambrian and Orchard School Districts in San Jose, and the Santa Clara Unified School District in Santa Clara.
Eric also performs professionally in the San Francisco Bay Area, both in his own groups, The Eric Bolvin Group and Eric Bolvin's Quorum, as well as for studio recordings, for albums, soundtracks and for television and radio commercials. He composes and arranges, and has released several albums.
He also performs many styles of music, including jazz, classical, rock, Latin, Asian and country-western in concerts and clubs throughout the west coast.
For more information please visit his website at www.bolvinmusic.com