REHEARSALS
General Information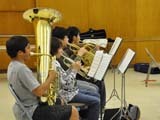 Rehearsals are held every week, except the week of Christmas and New Year's. This includes the Memorial Day Monday as well as other Monday holidays or school week vacations! Easter Sunday is a holiday and day off for those groups that rehearse on Sundays. Rehearsals begin the week of September 10th for the 2017-2018 season. Check back mid-August for the Complete Rehearsal Schedule.
Please try to avoid taking the SAT on concert or rehearsal days by choosing an alternate test date(Please see the 2017-2018 SAT test schedule). It is vitally important that all members do their utmost to schedule taking the SAT exam on another date.
Specific rehearsal details for each ensemble:
Extra rehearsals may be required based on the concert requirements. The conductor or Music Director will decide and notify the musicians if extra rehearsals are needed. In tour years, extra rehearsals are required to ensure the orchestra is prepared for the tour performances.
Rules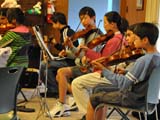 All musicians must check in with the attendance taker when they arrive, and Philharmonic musicians must check in AGAIN after the break. Failure to do so will be recorded as an absence;
Musicians are required to bring their instrument (and accessories), music, music stand, black binder, and a pencil for note taking;
Musicians are required to check their email each week to read conductor messages regarding rehearsals and concerts sent to them via Google Groups;
Musicians are expected to practice and come prepared per their conductor's direction. They should arrive 15 minutes before the start of rehearsal. Late arrivals may be asked to sit out till the break so they do not disrupt the rehearsal.
For SAFETY reasons, younger members MUST be picked up by an adult from their rehearsal room. SJYS will not allow a young musician to leave alone, even though he/she might have a parent waiting in the parking lot.
No food or drinks (except bottled water) are allowed in ANY of the rehearsal rooms.
Musicians will not do homework, talk, nor leave the rehearsal site during rehearsal hours.
Attendance Requirement

Each orchestra and ensemble is made up of musicians that perform together as a team. Everyone's participation and perfect attendance is essential to the success of our concerts. Each member of SJYS must follow these rules on attendance:
Musicians can miss no more than TWO (2) rehearsals per season due to illness, emergency, or special circumstances (that must be pre-arranged with their conductor).
Notice of absence must be made to the SJYS office at least 24 hours before the rehearsal date or as soon as possible, by filling out and submitting the online Absence Form for your orchestra/ensemble.
More than two excused absences will result in disciplinary action and may endanger your membership with the San Jose Youth Symphony
Absence from a concert or dress rehearsal may result in dismissal or a fee for the full cost of hiring a replacement. This can cost $500 or more.
Continued absences will result in  dismissal from SJYS. Musicians may be liable for the cost of hiring a replacement for a concert should a dismissal occur.
Two late arrivals to a rehearsal are counted as one absence.
Parent/guardians are encouraged to contact SJYS to discuss issues concerning their student's absences.