PHILHARMONIC ORCHESTRA
The Philharmonic Orchestra is the premier orchestra of the San Jose Youth Symphony. Membership is reserved for outstanding players who demonstrate strong musicianship, have highly advanced technique, and are capable of the discipline necessary to perform in a pre-professional orchestral setting. Musicians have the opportunity to study and perform a wide range of challenging masterpieces from the standard symphonic repertoire, and select musicians have the opportunity to play in chamber music groups that perform at various venues throughout the year.
Watch an excerpt from one of their concerts last season!
Artistic Requirements
Musicians must meet these requirements in order to be accepted into the Philharmonic Orchestra.
 2016 – 2017 Season Repertoire
Performances with the Los Gatos Ballet: December 9, 10, and 11, 2016
Matinées at 2 pm [12/10, SAT & 12/11, SUN] and Evening Shows at 7:30 pm [12/9, FRI & 12/10, SAT], at the Flint Center, 21250 Stevens Creek Blvd., Cupertino 95014
Tchaikovsky – The Nutcracker Ballet
Season Opener Concert – December 3, 2016, 4 pm, at the California Theatre, 345 S. 1st Street, San Jose 95113
Strauss – Die Fledermaus Overture
Lehár – Ballsirenen Waltz from The Merry Widow
Suppé – The Light Cavalry Overture
Debussy – Première Rhapsodie for Clarinet and Orchestra
Luis Lechuga, clarinet
Ravel – Bolero
Second Concert – March 18, 2017, 4 pm, at the California Theatre
Gotovac- Simfonijsko kolo/Symphonic Dance
Reinecke – Flute Concerto in D Major – Movement 3
Kimie Lewis, flute
Wieniawski – Violin Concerto No. 2 in D minor – Movement I
Eric Wang, violin
Tchaikovsky- Rococo Variations for Cello and Orchestra
William Gu, cello
Liszt – Les Préludes
Season Finale – June 3, 2017, 4 pm, at the California Theatre
Gershwin – Girl Crazy Overture
Bruch – Violin Concerto No. 1, Op. 26 in G minor
Eunice Kim, violin
Rimsky-Korsakov – Scheherazade
Bon Voyage Concert – June 17, 2017, 7:30 pm, at the School of Arts & Culture, Mexican Heritage Plaza
Gershwin – Girl Crazy Overture
Bruch – Violin Concerto No. 1, Op. 26 in G minor
Eunice Kim, violin
Rimsky-Korsakov – Scheherazade
Concerts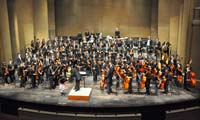 The Philharmonic Orchestra performs three subscription concerts per year in December, March and June at the historic California Theatre in downtown San Jose. In addition, the orchestra performs at many special events, including the annual Season of Hope concert at the St. Joseph Basilica in downtown San Jose. This event is part of San Jose's Christmas in the Park celebration.
The Orchestra has performed with many internationally renowned artists in concert and on tour. They include Jon Nakamatsu, Gold Medal winner of the 1997 Van Cliburn International Piano Competition,  Axel Strauss, professor of violin at the San Francisco Conservatory of Music, Taylor Eigsti, renowned jazz pianist and two-time Grammy Award nominee, and Max Zorin, critically acclaimed violinist and faculty member of the Penn State School of Music.
In addition to the standard symphonic repertoire, the orchestra has collaborated with many local and international leading arts groups, among them the San Jose Symphony Orchestra, the

Asian Youth Orchestra, the Okayama Youth Orchestra, San Jose Taiko, Firebird Youth Chinese Orchestra, Mariachi Cobre, San Jose Children's Musical Theater, the Batucada nana Latin Ensemble, the Crystal Children Choir, the Homestead Jazz Ensemble, the Latin Jazz Ensemble from San Jose State University,  and the Los Gatos Ballet in its annual full productions of The Nutcracker.
Rehearsals
Rehearsals are held every Monday from 6:30 – 9:30 pm at the Los Gatos United Methodist Church (LGUMC), 111 Church Street, Los Gatos.
Sectionals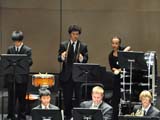 In every concert, musicians will receive up to two sectionals coached by leading professional musicians from the area. Approximately every 6 – 8 weeks the orchestra will be divided into small groups based on their instrument and professional musicians will assist SJYS members to develop their skills.
International Tour
Every two years the Philharmonic Orchestra embarks on an international concert tour in the summer. Past destinations include Europe (Ireland, Belgium, Netherlands, Germany, Austria, Italy, Spain, Portugal), South America (Argentina & Chile), Eastern Europe (Bosnia and Herzegovina, Slovakia, Slovenia, Czech Republic, Poland) and Asia (Japan). Please visit our tour page for more information about past tours.