SUMMER CAMPS
2017 – 2018 Season Summer Camps
Members of the SJYS Orchestras (Philharmonic, Chamber and Concert Orchestras), Concert Winds, Saxophone & Percussion Ensembles, Avancé & Avant Flute Choirs, Intermezzo, and Prelude Strings Ensembles attend a weeklong summer camp prior to the start of the season. The dates and locations of the camps are described below.
These camps provide critical, intensive training for SJYS members to prepare for the upcoming season. In addition, the camps allow members to become acquainted with each other and with their conductor, as well as with the music they will be rehearsing and performing in concerts.
At camp, orchestra members receive sectional coaching and masterclass opportunities. Besides rehearsals, sectionals and masterclasses, members take part in all sorts of fun activities, and all end their camps with a concert, performing music they worked on during the entire course of the week.
Overnight Camp Week ONE (Chamber & Concert Orchestras; Avancé & Avant Flute Choirs)
July 29 – August 3, 2018 (Sunday – Friday)
Santa Clara University
500 El Camino Real
Santa Clara, CA  95053
Map & Directions
Overnight Camp Week TWO (Philharmonic Orchestra; Concert Winds, Saxophone & Percussion Ensembles)
August 4 – August 10, 2018 (Saturday – Friday)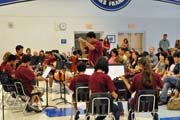 Santa Clara University
500 El Camino Real
Santa Clara, CA  95053
Map & Directions
Day Camp (Intermezzo and Prelude String Ensembles)
July 23 – July 27, 2018 (Monday – Friday, 9 – 4 pm)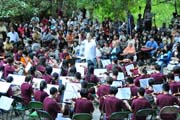 Union Middle School
2130 Los Gatos-Almaden Road
San Jose, CA 95124
Map and Directions